PrimaLuna ProLogue Premium Integrated Amplifier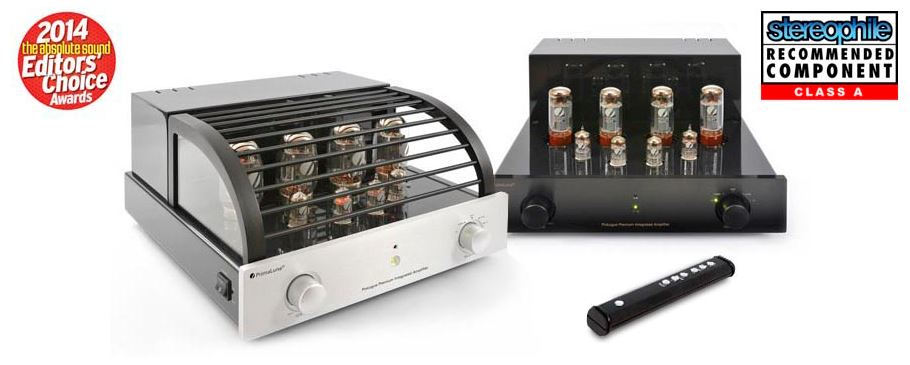 We don't want you to compare the ProLogue Premium to an integrated that sells for the same price. That's too easy. We want you to compare it to an integrated that sells for more than twice the price. Compare it for the things that really count. Build quality like point to point wiring. Premium parts like an Alps Blue Velvet Volume control. Custom-wound output transformers for super-wide bandwidth and REAL bass that has punch and follow-through. Engineering like Adaptive AutoBias, Bad Tube Indicator, Super Quiet Relay source selection instead of cheap switches, and SmartWatts which assures you no headaches that for years have been associated with tubes. No longer will you be a slave to worry about how much time you left your amp on. Turn it up. Have fun. Use it every day. All day.
You can compare the sound and it will become immediately apparent. But if that's not possible, don't worry. The most well-known experts in audio have done it for you. While most products you read about get good reviews, they don't get chosen by the experts for their own personal use.
Bob Deutsch, an expert in audio and a well-known senior reviewer at Stereophile magazine, reviewed the ProLogue Premium in 2012. Not only did he give it a great review, he loved it so well he asked if he could continue it to use for writing reviews of top-name loudspeakers. For years now it's been mentioned in the pages of Stereophile, but in one 2015 review in particular, he really summed it up by saying:
"Ever since I reviewed PrimaLuna's ProLogue Premium, for the June 2012 issue, it has been the model I turn to when I wanted a moderately priced integrated amplifier to try with a new speaker. It never disappointed me, and never seemed outclassed, even when the speaker was the Martin Logan Montis ($10,000/pair). At $2399, the ProLogue Premium to me represents the "sweet spot" for systems in the range of $4,000-$10,000 or higher."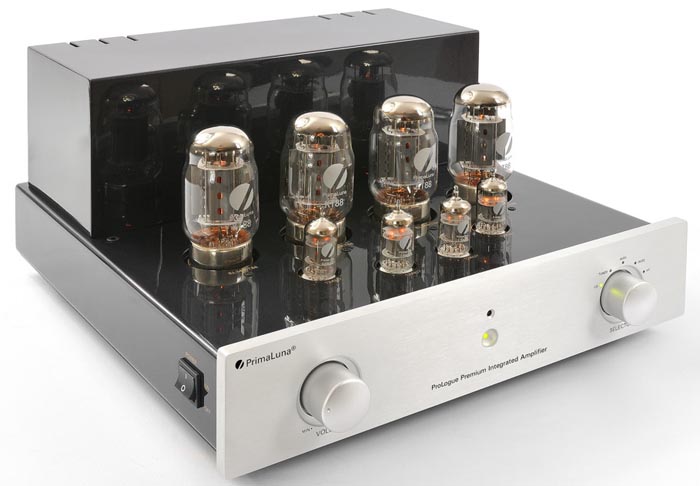 Every component looks good on the outside. You can't make a good buying decision without looking at the inside. Look at specifics. Go to Google, type in a competitive product, and click on "images". They don't want you looking inside. We demand you do.
Adaptive AutoBias. A PrimaLuna exclusive. If anybody tells you that they have auto bias, ask them precisely how. It's most likely not true. As with all PrimaLuna amps, you never have to worry about biasing your amp ever again, and the need for matched tubes is eliminated. Just plug in EL34, KT88, or KT120 (as well as many others) and AAB does the rest while improving sound quality. Tubes are constantly monitored and kept in their best operating range, reducing distortion by up to 50%!

Home theater pass-thru. Straight from the critically-acclaimed DiaLogue Series, this direct-line circuitry means less noise and colouration over unity gain circuits. You can hook it up to a surround processor, and when you switch the ProLogue Premium to HT the amplifier becomes in essence a power amp.

New front-end circuitry. The ProLogue Premium uses two 12AU7 tubes per channel. The result is even lower distortion and increased bandwidth. The change in dynamic range is stunning! Distortion levels in the first stage have dropped by a factor of five at low levels, and at least 20 at higher levels, above one volt.

We chose 12AU7 tubes because there are more factories around the world making great ones today than any other tube, so you can try them and see if you prefer their "color." By contrast, a tube like the 6H30 tube is well-known for thin mids, and they are only made in one factory in Russia. If your equipment uses that tube, there is no way to fine-tune the tonal balance of your system trying different brands; you'd better like it as-is. What if that 6H30 factory has a problem, closes, or just decides to stop making them? In addition, because 12AU7's have always been a popular tube, there are tens of thousands of vintage new-old-stock 12AU7's available everywhere from the greatest factories like Telefunken, Mullard, Amperex, Cifte, Siemens, and more. Tons of them. If you haven't "Tube Rolled," it's a gas, and how you get that last 10% of PERFECT tonal balance to YOUR tastes.

SuperQuiet Line Inputs. Selector switches mounted on the front panel have two problems: First, there are often long wires that run from the switch in the front to the rear RCA jacks, and they invite stray noise like RF and EMI. Second, switches don't make the best contact when new, and the quality degrades as the switch gets dirty and worn. Then, selector switches have crosstalk between the inputs. You've probably heard it yourself; you're listening to a CD and the music ends, and you can hear a faint signal from your tuner. Or a slight hiss, hum, or buzz coming in to through inputs you aren't using. The noise can be obvious, or so small that you can't really identify it. The negative effect is the same: It obscures micro details in the music that allow you to make out things like the body of a guitar or the sense of space in a hall.

PrimaLuna has a better way. Instead of a switch, input selection is done using premium quality sealed relays made by Fujitsu in Japan, mounted in the rear where you plug in your components. When an input is selected, that relay closes giving you the best connection possible. All the other relays are left open, so noise and signals from other sources can't leak in. Relays open and close, so there is no wiper to get dirty, noisy, or wear out. The signal path is much shorter. In fact it's almost non-existent, so there are no long wires to pick up noise.

One last technical feature: Each input has a circuit designed to present a perfect 100K ohm input impedance to the components you are plugging in, assuring you that every piece of gear you listen to will sound its best.

Custom wide bandwidth output transformers No other brand can copy the PrimaLuna sound for one simple reason: PrimaLuna output transformers. Almost every manufacturer buys their output transformers off the shelf; with varying degrees of success. Transformers are the most important (and most expensive) ingredient in making an amplifier. Our output transformers are custom wound in-house. The designs are the result of collaboration between engineers in the Netherlands and the United States, and built to the same standards that you come to expect from the world's authority on tube amplifier manufacturing.
That's why PrimaLuna bass extension is deep and tight, the top end extended but without even a hint of grain, and that famous PrimaLuna midrange, which creates a sense of space and shape you won't get anywhere else.

Full-function remote. Slim, anodized aluminum remote, controls volume, mute, and source selection, as well as Play/pause and Stop/eject functions of the new ProLogue Premium CD Player.

SmartWatts design. PrimaLuna's true-value, low stress design philosophy. Many manufacturers fudge on their power ratings, claiming power that is mathematically impossible. Every seasoned tube owners knows that 20 watts from a tube amp is a ton of power. What is really important is that PrimaLuna runs their power tubes up to 40% easier that other manufacturers. You can tell easily by putting your hand on top of a PrimaLuna amp. They run cooler than others. There is no reason to run tubes at their jagged edge. Why do manufactures do it?
Next, the ProLogue Premium Series introduces four innovative circuits that protect the amp at every level:
BTI-circuit. BTI stands for "Bad Tube Indicator." On the chassis' deck in front of each power tube, is a small LED that lights up if the tube goes bad. The circuit then puts the amp into protection mode. With other brands, this may be when you have to break out the soldering iron to replace a plate resistor, and replace two or four tubes because your amp requires matched sets. With PrimaLuna, you just replace the tube it tells you to (no matched tubes required), and turn the amp back on. No hassles, no headaches.

PTP-circuit. If the power transformer should overheat, this "Power Transformer Protection" circuit cuts primary power, allows the amp to cool down, then resets itself.

OTP-circuit. The "Output Transformer Protection" circuit protects the output transformers in the event of a massive tube failure or user error.

+B relay. Replaces the plate fuse and works in conjunction with the OTP-circuit to protect the amp against tube failure. This method is less intrusive sonically and the relay resets itself once the faulty tube is replaced.
As with all PrimaLuna components, the ProLogue Premium Integrated is made by hand with the finest point-to-point wiring and quality equal to—or better than—any product you can buy at any price. Built using premium parts featuring: ceramic tube sockets; Solen and Nichicon capacitors; WBT-style solid core speaker terminals; ALPS Blue Velvet volume control; gold-plated RCA jacks; toroidal power transformer. All packaged in a high-gloss, hand-rubbed finish.
Specifications
Output: 35 watts x 2 EL34, 40 watts x 2 KT88, 44 watts x 2 KT120, 48 watts x 2 KT150
Freq. Response: 20Hz-30kHz +/- 0.5dB
THD: Less than 1% at full power
S/N Ratio: 89 dB
Input Sensitivity: 300mV
Power Consumption: 300 watts
Dimensions: 14.5 " x 8" x 15.5" (WxHxD)
Weight: 46.3 lbs
Inputs: 4 pair RCA / 1 pair HT bypass
Outputs: 4 and 8 Ohm speaker taps
Standard Tube Compliment: 4 - 12AU7, 4 - EL34